Conetastic

TM
In the big wide world of jewelrymaking findings, cones are a must, and it is always difficult to find just the right ones for your designs. Expensive too! Now you can make your own cones with all shapes of wires, in several wire gauges, and in the colors and sizes you want to truly customize your designs.
I designed Conetastic™ with both novices and experienced wireworkers in mind. You can fashion cones with a single wire or with multiple coiled wires in a variety of diameters and lengths with a minimum investment of time. Take a look at some of the designs I created using Conetastic™, including my popular "Ice Cream Cone Earrings", "Copperhead Snake Necklace" and "Coiled Bangle" revisited!
Conetastic™ can be hand-held, placed in a table vise – even mounted in the universal chuck of a coiling tool or a cordless driver. My tool is built for me by the specialists at Beadalon/ArtisticWire® and is available for you to buy and use in your own wirework.
Exclusively in my Store, you can order:
the original Conetastic™ with storage in the handle and 3 Mandrels for $29.99;
a set of five Accessory Mandrels - 2 Threaded Hourglass and 3 Inverted - for $29.99;
or a fabulous complete set at a discounted price of $55.99, including a

free Hourglass and Pearl Earring Kit

- your choice of color, as shown in the Kits section, below;
all packaged in my
Signature Series
box and including printed instructions along with links for free videos showing how to use the tool.
(Free shipping via USPS Priority Mail within the U.S. through the end of the 2018 Tucson Gem and Mineral Show®)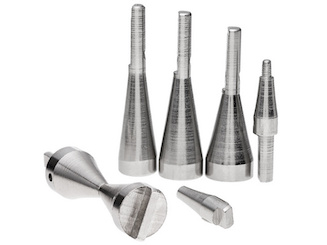 Jewelry-making Kits
Hourglass and Pearl Earrings
Fashion these sensuous forms using Swarovski® Crystal Pearls in any one of four colors (left-to-right: Powder Coat Green, Light Blue, Coral and Turquoise) using the Hourglass mandrel. The cost is $12.00 per kit, including mailing within the U.S. (You will need both original Conetastic™ and the Hourglass accessory to make these earrings: purchase above as my Signature Series or from other retail outlets.)

Each kit contains the following components:
Artistic Wire® - 20g, round or twist (in the color shown for your pearl selection)
Beadalon® Earwires with ring, silver or copper color (1 pair)
Balltip headpins, silver or copper color - 2" (2)
Swarovski® crystals, in the colors shown for your selection
Jewelry-making Instructions
Coiled Bangle Bracelets
My instructions for Coiled Bangle Bracelets include over 20 photographs showing how to create a finished piece using your own sterling silver or colored copper wire, lampwork beads and other complementing beads. A list of the tools you will need is included. This is the same 8-page instruction booklet I have used in my workshops at Interweave Beadfest and in my favorite bead shop classes. Complete printed instructions with color photographs cost $25.00, including mailing within the U.S.