About Sandra Lupo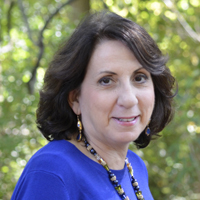 Sandra Lupo is a jewelry designer who teaches wire, bead and metalwork techniques at museums, arts workshops and wherever creative students gather and seek knowledge in the art of jewelrymaking. She contributes DIY projects to various publications and demonstrates and teaches nationally and internationally at bead festivals. Sandra has been on expert advice teams and has judged contests in jewelry design and crafting.
Sandra currently is a Swarovski® Authorized Instructor, a member of a small group of nationally recognized designers and teachers. She was a Swarovski Ambassador from the inception of that distinguished program. Many of her instruction techniques are featured in videos available on YouTube – see the list of links below for viewing.
As an inventor, Sandra is excited to share her creativity with the jewelrymaking and crafting world with designs, written instructions and demos based on her Conetastic™ Cone Mandrel Tool Set and Accessories. This essential tool and its variety of cone mandrels is brought to the marketplace by Beadalon/Artistic Wire®.
Artist's Statement
"Designing jewelry is a natural part of my day. Curiosity about tools and gadgets often leads to exploring how best to use all the materials that are available. And with a metalsmithing background, I find it important to introduce good function into all of my designs. Weaving design, function and material together into a lovely, versatile finished piece is a delight for all in this do-it-yourself craft.
"My wire and bead jewelry is inspired by my surroundings and travels and has been influenced by the knowledgeable and experienced jewelers who have been my teachers. My designs are steeped in traditional methods, styled with color and texture and a mix of Old World and New World materials. I seek to design wearable art as 'feel good', 'look good' and 'function well' pieces. My passion for gemstones, pearls, crystal, glass and just about anything that can be wired together and worn is only matched by a desire to teach technique and share my explorations with students."