Welcome to Sand's Stones
Hand-made jewelry, custom designed and ready-to-wear, classroom instruction, and jewelry-making kits for the creative soul...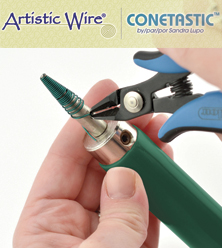 Conetastic™
"Finally, take wire coiling a step farther..." writes Melissa Cable in the June/July issue of Step by Step Wire Jewelry.
Availalbe now for purchase in my Store and in local bead and craft shops.
Design
Lush Garden Necklaces display a palette of colors, textures, and shapes using vintage or contemporary themes.
View several of my other original creations on my design page and in the Gallery of Designs on the Fire Mountain Gems and Beads website.
Video Instruction
My video on Wire Coiling with Conetastic™ will be airing this season as part of the Beads, Baubles and Jewels TV series. These weekly PBS shows start on Thursday, October 30 at 6:30pm - visit the PBS website for selected local stations.
You can view my instructional tutorials on the Fire Mountain Gems website - just click any topic below.