Welcome to Sand's Stones
Hand-made jewelry, custom designed and ready-to-wear, classroom instruction, and jewelry-making kits for the creative soul...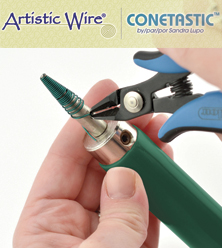 Conetastic™
(Click above for the full reviews.)
Inverted and Hourglass Mandrels were recently added as Accessories to the original Conetastic™ concept, clever additions that allow the tool to work even harder for you.
The boxed Signature Series of Conetastic™ and Accessories are available for purchase exclusively in my store.
Personal Instruction & Events
See my calendar for details about the Beadalon® Factory Tent Sale on September 19 and 20.
With Kim Prentiss on JTV's Jewel School demonstrating Conetastic™ and more...