Welcome to Sand's Stones
Hand-made jewelry, custom designed and ready-to-wear, classroom instruction, and jewelry-making kits for the creative soul...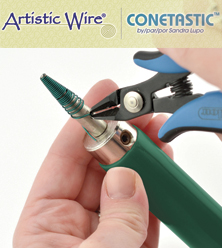 Conetastic™
(Click above for the full reviews.)
Inverted and Hourglass Mandrels were recently added as Accessories to the original Conetastic™ concept, clever additions that allow the tool to work even harder for you.
The boxed Signature Series of Conetastic™ and Accessories are available for purchase exclusively in my store.
Personal Instruction & Events
With Kim Prentiss on JTV's Jewel School demonstrating Conetastic™ and more...
Design
Lush Garden Necklaces display a palette of colors, textures, and shapes using vintage or contemporary themes.
View several of my other original creations on my design page and in the Gallery of Designs on the Fire Mountain Gems and Beads website.
Video Instruction
On October 29, the newest series of Beads, Baubles and Jewels began airing on Public Television stations. Look for my segment about using Conetastic™ accessories on you local PBS channel. View a sampling of other videos.
Store
My easy assembly kits are for all levels of jewelry-makers. Kits include instructions and all necessary components.

Christmas Tree Earring Kits in time for your holiday giving are now available in my store.
.
My Finger Bling Rings Kit is featured in the 2015 issue of easy metal jewelry magazine and available for purchase from the Interweave store.